Ben Freed| AnnArbor.com
The Economic Outlook for Washtenaw County, published by University of Michigan economists George Fulton and Don Grimes, showed job growth in the region that would fully replace all jobs lost in the recession as early as mid-April.
The good news continued as the economists predict that by 2015 there will be 11,000 more jobs than ever before in Washtenaw County.
But what jobs will these be? Fulton said that the fastest-growing job segment is "high-wage" jobs. Here, we take a deeper look at what sectors are forecast to experience the most growth over the next few years.
This list was compiled using data from the Washtenaw County Economic Outlook and takes into account total new jobs, rate of job growth and the job category's average wages.
10. Employment Services
Not surprisingly, as more jobs are opening, more human resources representatives will be needed to find prospective employees and manage their pay and benefits. According to the economic outlook, the sector is expected to add more than 250 jobs by 2015.
There are already more than 5,000 employment services professionals in Washtenaw County, and the number will continue to grow as the economy improves.
9. Golf Courses and Country Clubs
As more high-wage jobs come into the area, the lifestyles of the rich (if not quite famous) will lead to significant job growth in the leisure and hospitality sectors. One of the most dramatic increases will be jobs at golf courses and country clubs, which are forecast to grow 27.7 percent over the next three years.
Even as a growth sector, you might not want to plan your future around becoming a caddy, however. The average wage for jobs in the sector was only $15,690 in 2011.
8. Skilled Manufacturing
The number of Washtenaw County jobs in automobile manufacturing, the actual assembly of cars, has dropped from a peak of 19,120 in 1990 to just 4,656 today. Despite this drop, there are still manufacturing jobs to be had, and some sectors are forecast to see growth over the next three years.
Fabricated metal products and plastic and rubber products, two areas often associated with the auto industry, are each projected to add approximately 150 jobs over the next three years. The growing high-tech and health care sectors are expected to drive growth in local manufacturing of electronic and medial equipment; both are expected to grow by more than 10 percent.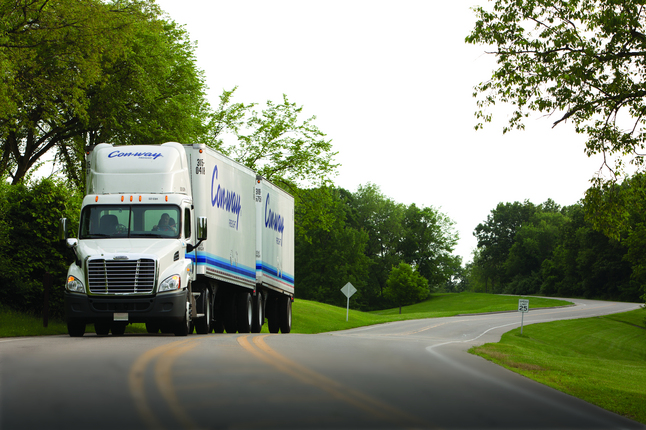 International trucking company Con-Way is headquartered outside of Ann Arbor and has made a significant recovery after being hit hard in the "great recession."
Photo courtesy of Con-way Freight
7. Transportation and Warehousing
Fulton and Grimes predict more than 550 new jobs in the transportation and warehousing sector by 2015. One major factor in that growth is the recovery of Con-Way Freight, which was hit hard during the recession. The company's corporate office employs 401 people, and spokesman Gary Frantz said in an email that it is currently hiring a number of positions.
The return of the automotive industry has also helped this sector, as auto parts produced in local plants must be stored and transported to assembly plants across the Midwest.
6. Wholesale Trade
Another sector that is heavily integrated with manufacturing, wholesalers are the well-paid middle men who sell large quantities of parts between plants. The sector had an average wage of $65,156 in 2011, placing it firmly in the "high wage" job category.
As local manufacturing continues to expand, the sector is expect to grow by more than 400 jobs by 2015 to just under 5,000 in the county, a nearly 10 percent growth rate.
5. State Government
This overarching category is perhaps the most risky on the list because most of the jobs attributed to the state government in the economic forecast are at the local research institutions and in the University of Michigan Health System.
While a combination of the federal sequester, reimbursement cuts and the uncertain future of state funding threatens to cause significant spending cuts to the sector, Fulton and Grimes still envision more than 3,500 new jobs in the sector over the next three years.
4. Nursing and Residential Care
The Southeast Michigan Council of Governments predicts that the over-65 segment of the population will grow steadily from approximately 12 percent now to about 20 percent in 2024. The aging population will require more care, and nurses and residential care facilities will shoulder much of that increased workload.
Washtenaw County will likely add about 550 jobs in the sector, an approximately 13 percent increase that will bring the number of nurses and residential care workers in the county to just over 4,700.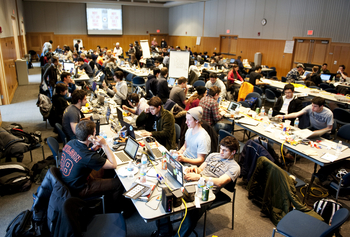 Computer programers, like these students at a recent University of Michigan hackathon will be in high demand according to Grimes and Fulton.
Daniel Brenner | AnnArbor.com file photo
3. Computer Systems Design
In his remarks at the Washtenaw County Economic Club Outlook Luncheon, Center for Automotive Research economist Sean McAlinden said that Ann Arbor is the top place in the state for computer programmers and developers, but that more are needed. According to the economic forecast, approximately 400 more will be needed in the next three years, a growth rate of nearly 20 percent.
These are well-paying jobs too: The average wage for someone in this sector topped $80,000 in 2011.
2. Financial Services
The financial services sector, or "credit intermediation and related activities" as economists call it, is also expected to grow by approximately 20 percent over the next three years. Much of that growth will be fueled by a planned hiring spree at Gold Star Mortgage that would add 250 local jobs in one go.
Financial jobs pay at the higher end of the "middle wage" industries, averaging just over $57,000 in 2011. Other high-growth financial companies in the area include Cole Taylor Mortgage and Bank of Ann Arbor.
1. Construction
With the residential real estate market bouncing back and ever-increasing demand for student high rises and downtown office space, it's no surprise that construction tops our list of jobs to watch in Washtenaw County. The numbers may never get back to where they were during the housing boom of the late 1990s, but the industry is expected to grow by nearly 25 percent over the next three years.
"There are a lot of construction workers left in the labor force," Fulton said. "They're ready to go back to work."
If Fulton's forecast holds true, nearly 800 of them will get back to work by 2015, pushing the total number of employees in the sector just over 4,000.