Amy Biolchini| Ann Arbor.com
The job market outlook is positive for registered nurses in the next five to 10 years in Michigan, industry professionals say.
Though the economic recession slightly changed the hiring trends for health care providers, the job sector continued to grow as Michigan's manufacturing economy shrank in the past five years.
It's a different and decisively more positive outlook than other markets in the U.S., where 43 percent of newly licensed registered nurses can't find a job within the first 18 months of graduating, according to a recent report.
"The employment picture has certainly gotten brighter here in Michigan, as the economy has gotten better and people have gone back to work," said Carole Stacy, director of the Michigan Center for Nursing.
The University of Michigan Health System's online job portal shows 42 open positions for nurses, and there are 95 positions available for nursing professionals in St. Joseph Mercy Health system's Ann Arbor, Saline and Livingston locations.
About a year and a half ago, it would take some recently graduated nurses about three to four months to find their first job, Stacy said.
"Our students are getting jobs within six months," said Michael Williams, interim director of the School of Nursing at Eastern Michigan University. "It has definitely taken longer than five to 10 years ago when they were hired six months before they graduated."
That's about to change.
The economic slump meant many older nurses – a field predominated by women – continued to work instead of retire, meaning the field of positions that would have been traditionally vacated was much less open to new hires.

Data from the Michigan Center for Nursing Survey of Nurses 2011 that shows the age of practicing registered nurses in Southeast Michigan.Courtesy Michigan Center for Nursing
Those workers are about to begin a mass wave of retirements, predict Williams and Stacy, leaving a void for recent graduates to fill.
Hiring trends in the field are changing as well.
Employers are giving preference to registered nurse candidates who have a bachelor's degree over an associate degree, Stacy said.
"There's a real push on now for nurses to continue their education," she said.
There's no clear pay distinction between registered nurses with a four-year degree and a two-year degree, Stacy said, noting most employers don't compensate nurses for the higher degree.
Nationwide, enrollment in Bachelor of Science in Nursing (BSN) programs has increased every year for the past nine years: In 2003, enrollment was at 31,215 students and in 2011 enrollment was at 89,975 students, according to the American Association of Colleges of Nursing.
Stacy said patient satisfaction and patient outcomes markedly improve when more nurses are prepared at a BSN level.
In Michigan, about 60 percent of recently graduated registered nurses have associate degrees while 40 percent have bachelor's degrees, Stacy said.
"There's no way to flip it with the system we have," Stacy said, noting about 17 percent of graduates from two-year programs continue on to get their bachelor's degree.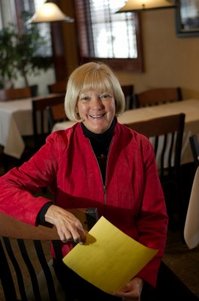 Before the economy hit its slump, Stacy said there was an expected shortage of 7,000 to 8,000 nurses in Michigan in 2010, causing nursing schools to ramp up their programs.
By 2006, 10,000 nurses graduated from programs and were licensed, Stacy said.
There continues to be a high demand among students for nursing program spots.
At EMU, 112 out of about 300 applicants were selected for the program this year, Williams said.
Washtenaw Community College has a wait list for its nursing program, and graduated 68 students with associate degrees in 2012. Additionally, 18 students from its transfer program graduated with four-year nursing degrees.
Classes of 40 students each are admitted to WCC's nursing program each fall and winter semester.
Stacy said experts are still predicting nursing shortages in the future – the extent of which will be determined by the impending windfall of retirements set to hit the sector.
Newly licensed nurses may also likely find their first job in a specialty of nursing that is not their first preference, Stacy said.
"Many of them were not able to find a job in acute care settings, but they could find jobs in long-term care or home health care … there were jobs out there," Stacy said. "Some experienced not being able to get a full-time job, but they could get a per diem, on-call contingency position."
Though most registered nurses would prefer to work day shifts in a pediatric setting, Stacy said there are more openings in other areas.
Long-term care facilities are hiring more registered nurses than licensed practice nurses because the patients are increasingly sicker than they have been in previous years, requiring more specialized care, Stacy said.
Hospitals are also directly hiring more per diem nurse employees than in years past, Stacy said.
"We're hearing that some of these new hires are being hired on as per diem and contingency workers," Stacy said. "They may or may not get benefits; it's a little bit tenuous on job security."
Two decades ago, there was a large market for private agencies hiring temporary employees with whom hospitals would contract to provide them with a pool of nurses. Now, many hospitals are choosing to hire those employees directly, Stacy said.
Starting salaries for registered nurses have not changed in the past three to four years, and entry-level registered nurses make about $50,000 to $55,000, Stacy said.
According to the U.S. Department of Labor Bureau of Labor Statistics, the average mean wage in 2011 for registered nurses was $69,110. The job outlook between 2010 and 2010 is expected to grow by 26 percent, which is faster than the average growth outlook of 14 percent.