An opportunity to explore a career on the water, sailing the Great Lakes and oceans just became easier for students at OCC.
Northwestern Michigan College's Great Lakes Maritime Academy (GLMA) and Oakland Community College announced a new partnership creating a pathway toward a Bachelor of Science in Maritime Technology – Engineering Officer program.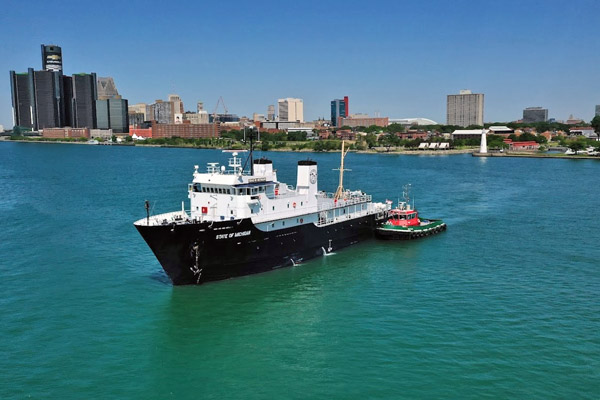 The agreement will allow students to attend OCC for one year with 37-38 credits and then transfer to the GLMA to complete the program. During their time at GLMA, students will receive an associate degree from OCC via a reverse transfer agreement. Additionally, these students will have the ability to complete the GLMA program requirements and earn the Engineering Officer Bachelor of Science degree and an unlimited horsepower merchant marine officer's license within 36 months of entering the program.  
David Johnson, OCC's director of Academic Partnership says this is a unique bachelor's degree opportunity for interested students in the region. 
"Nationally there are only seven institutions including the GLMA that offer the ability to earn a bachelor's degree and a U.S. Coast Guard merchant marine officer's license," Johnson said. "We are thrilled to be the only community college in metro Detroit offering this to our students." 
Students must apply to GLMA by March 1 to be given first consideration for this program. Applications received after this date will be addressed on a case-by-case basis. Students who have submitted the necessary application and supplement requirements can potentially receive an admission decision in as few as 72 hours. 
Jerry P. Achenbach, Ed.D., rear admiral, U.S. Maritime Service and superintendent, Great Lakes Maritime Academy, said students who complete the program have a wide variety of career opportunities. 
"Graduates of the Merchant Marine Engineer Officer program are often quickly employed, working only six months out of the year and earning an average $80,000 their first year," he said. 
Achenbach emphasized that in addition to career positions on the Great Lakes, seas and oceans, there are a variety of shore-side opportunities that are available to graduates of the GLMA engineer officer program.  
"These include positions with the U.S. Coast Guard, surveyors, shipyards, large organizations such as colleges and hospitals to maintain power production equipment, and offshore wind farms that are poised to become exponentially more numerous." 
For further information visit about this transfer program, visit https://www.oaklandcc.edu/transfer/maritime.  
About OCC   
Oakland Community College offers nearly 100 degrees and certificates programs with the resources students need to be successful and advance our community. As a top transfer institution, OCC offers one of the state's most affordable tuition rates and flexibility in scheduling with face-to-face and online options. The College is nationally recognized for its high-demand career training with expert faculty in their fields. More than 1 million students have enrolled in the College since it opened in 1965. Learn more at  oaklandcc.edu.