Oakland Community College was named the Apprenticeship Educator of the Year by the Michigan Educators and Apprenticeship Training Association (MEATA) at the organization's recent annual conference.
"Registered Apprenticeship programs are growing rapidly because it is a win for our workers, employers, and our economy, providing on-the-job learning, and related instruction at the same time that results in a stable and diverse workforce with good-paying jobs," said Cameron Albring, OCC Apprentice Coordinator.   "OCC was humbled to receive the award from MEATA."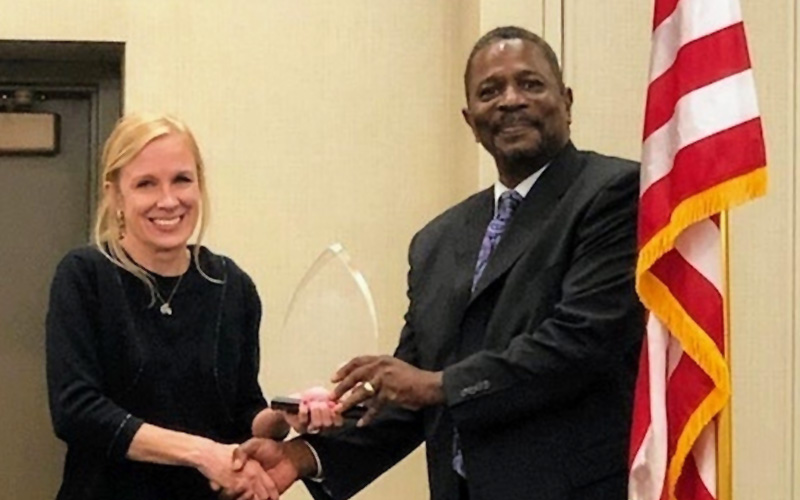 OCC's Cameron Albring (l) receives the Apprenticeship Educator of the Year award from MEATA President Kevin Green
Albring said OCC is strengthening and expanding Registered Apprenticeship through its $4 million U.S. Department of Labor (DOL) Employment and Training Administration Apprenticeship: Closing the Skills Gap grant in advanced manufacturing, awarded in February 2021. The funding from this grant offers a financial incentive for employers of up to $1,000 per an apprentice's tuition at the College.
As an approved, related instructional provider for Registered Apprenticeship programs, OCC works in cooperation with many local employers to advise and approve the apprentices' sequence of courses to ensure compliance with apprenticeship standards for the occupation and company.  Upon completion of a U.S. Department of Labor Registered Apprenticeship program, apprentices earn a portable, nationally recognized credential, an academic certificate from the College, and are shown the pathway towards earning a two-year associate degree at OCC.
OCC recently released an informational video (https://youtu.be/dkK6wjL7aJ4) that provides insight into the value of a Registered Apprenticeship from the perspective of a former OCC pre-apprentice student, now Registered Apprentice, and local employer partner, Williams International.
In addition to OCC's Apprenticeship programming, the College also offers a Pre-Apprenticeship program designed to prepare individuals to enter and succeed in a Registered Apprenticeship Program or other job opportunities.
For more information about OCC's Apprenticeship and Pre-Apprenticeship programs, visit https://www.oaklandcc.edu/apprenticeship.
###
About OCC
Offering nearly 100 degrees and certificates, OCC is Michigan's largest multi-campus community college and one of the top transfer institutions in the state. The College provides academic, career training and enriching experiences, designed to empower students to reach their potential and enhance our community. More than 1 million students have enrolled in the College since it opened in 1965. A seven-person Board of Trustees governs OCC. Board members are elected on a non-partisan, at-large basis, serve as volunteers and are not paid. Mission statement: OCC is committed to empowering our students to succeed and advancing our community. Learn more at oaklandcc.edu.
Media Contact: Marketing & Communications | 248.341.2020 | contactus@oaklandcc.edu